MWM Hospitalquip Co.,Ltd
MWM Hospitalquip Co.,Ltd is a professional provider of medical equipment and solutions in China, we are dedicated to providing one-stop solution of medical equipment with more than 10 years' experience. MWM combines the manufacture, research & development and distribution of medical equipment into one entity and includes three factories. Our headquarters locates in Shanghai City, the international center of China. Production base locates in Jiangsu, Zhejiang, Shandong province, which are the most important zones of medical industry in China.
Therefore, as early as 2015, MWM has established an effective manufacture system and management system. Now we have three modern manufacturing facilities in Jiangsu, Zhejiang, Shandong, covering more than 50,000 square meters. Our factories are in accordance with ISO 9001 and ISO13485 quality system requirements. Such products we manufactured, the quality has been approved and obtained several international standards as CE, FDA, ISO, AAMI-SD09: 2002. Their performance has reached advanced level in the world.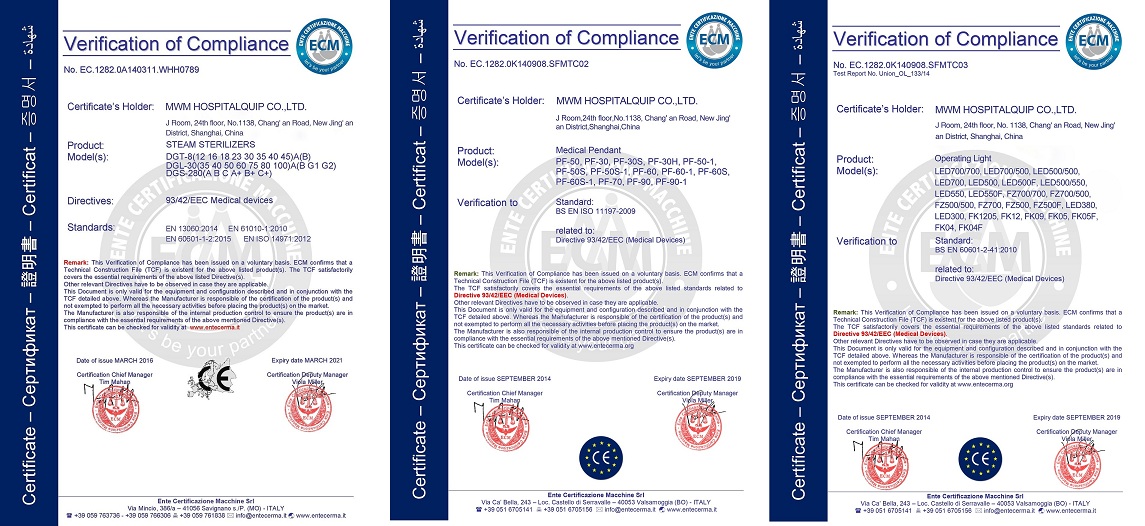 According to the needs of our customers, we have cooperated with other companies and took part in the management and to be the shareholder in the past ten years. This can assure us to provide a full range of medical equipment and solutions. After long time efforts, we have enlarged our product line to meet whole hospital project requirement. Now we can provide complete equipment solution for hospital, and also installation guidance, operation and maintenance training and marketing support.
In China, we have distributed our medical equipment to over 600 hospitals, clinics and healthcare facilities. Outside China, we have exported our medical equipment to more than 80 countries in Europe, America, Africa, Oceania and Asia. Now our brand "MWM" have gained wide customer recognitions for the reasonable price, prefect service and superior quality of our products.